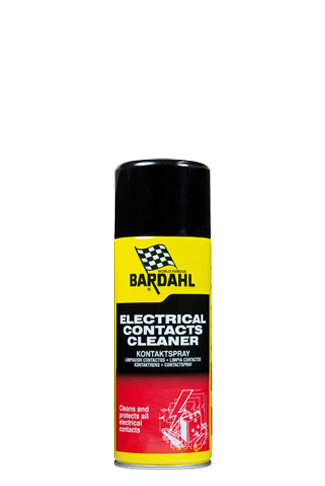 Electronic Contact Cleaner
Product number: :

61004
Bardahl Electrical Contact Cleaner reinigt en beschermt alle elektrische en elektronische systemen. Deze contact spray verbetert de stroomgeleiding, voorkomt lekstromen, spanningsverlies en spanningsterugval.
Need advice?
Or do you have other questions?
We are happy to help you
Electronic Contact Cleaner
De contact spray is veilig voor de meeste plastics of fibersoorten, het verdampt snel (advies: test het product bij twijfel op een klein monster). Bij het opspuiten ontstaat er een kleurloze spray van een snel verdampend oplosmiddel. Beschermt alle hoogvoltage bedrading tegen weersinvloeden. Voorkomt vonkontlading van ontstekingsdraden en connectors.
Bardahl Electrical Contact Cleaner houdt ontstekingsystemen in topconditie. Het zorgt voor snel en soepel starten van een motor bij nat of koud weer en vermindert de kans op overslaan van de motor. Het voorkomt lekstromen vooral in oude bedrading en vermindert zodoende stroomverlies.
Bardahl Electrical Contact Cleaner houdt contactpunten, zekeringen, schakelaars, relais, kabelpluggen, kabelverbindingen, printplaten en diagnose test apparatuur vrij van corrosie en sulfide resten. Contact spray lost vet, olie, stof en vuil moeiteloos op en spoelt het weg.
Toepassingen voor auto's: dynamo, startmotor, accu, kabels, poolklemmen, meetapparatuur, verdelers, regelaars en relais.
Op kantoor: voor luchtcompressoren, acculaders, elektromotoren, elektrisch handgereedschap, pompen, lasapparatuur enz.
Category:

Car

, Classic

, House

, Marine

, Motor

, Motorhome

Contents:

400 ML

Filter:

starting products