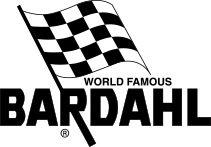 CLASSIC CAR ENGINE OIL
With your precious classic car you do not want to take any risks. An engine of 1930 demands for a different oil than a classic car from 1960! Bardahl therefore developed a special line of engine oils, which has been adapted to the technique of those days. This means;
• The engine oils are divided into three periods (until 1950, after 1950 and after 1970) and are suitable for seals of that time (paper, felt and fabric).
• The viscosity and the package of additives are adapted to the engines of those days and minimize the oil consumption.
• The excellent adhesion of the classic car oils contributes to minimum of wear of the engine when starting, and of great importance, even after long standstill.
Bardahl Classic oils is a
program engine oils and gear oils
for classics and Young timers, with a particularly authentic logo based on the Bardahl logo from the 50s and 60s.
• The line starts with classic car oils SAE30, 40 and 50 for engines up to 1950.
• For engines after 1950 there is the SAE 20W50.
• For Youngtimers after 1970, there are SAE 15W50 and SAE 15W40
• The gear oils SAE 90 GL1, SAE80 GL2 up to a SAE 90 GL3 and 80W90 GL4 complete the line.
View the program
classic car oils
In addition to oil, there are plenty of things to optimize the performance of your classic car.


Bardahl has a complete range of oil additives and fuel additives, such as:
•
B2 Oil Stabilizer
for engines with high mileage and / or excessive oil consumption and / or loss of compression.
•
Oil Booster + Turbo Protect
. This oil additive will not break a lubricating film on the moving engine parts; even after long standstill. For remanufactured engines and maximum protection.
Link to oil additives
•
Carburettor Cleaner
. This fuel additive ensures that the carburettor and fuel lines remain clean and that the white precipitate of the present-day gasoline does not affect parts.
•
E10 Fuel Improver
is designed to safely E10 fuel to drive. This fuel additive protects the fuel from the harmful consequences that could arise when E10 fuel is refueled. In addition, this additive has a favorable effect on fuel consumption and keeps the fuel system clean.
Link to fuel additives
With the
Bardahl Car Care
line you can maintain the interior and exterior of your classic car. The paint remains exquisite through our
Showroom Shine
.
The convertible roof
waterproof spray
provides maximum protection against the penetration of dirt and moisture. Regularly impregnation prolongs the life of the convertible top. Our leather cream nourishes the leather to keep it supple and retain luster.
More Info? Click
here