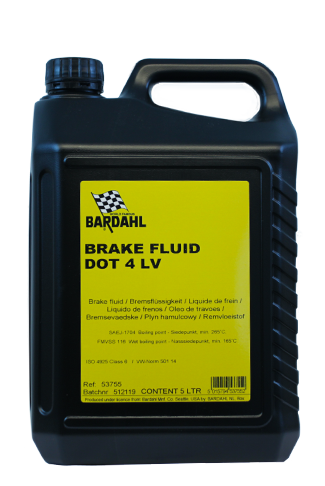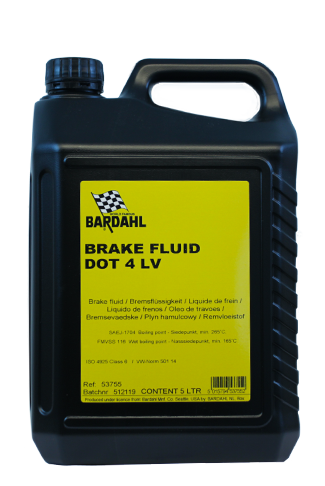 Brake Fluid DOT 4 LV
Product number: :

53751
Bardahl DOT 4 LV remvloeistof (Low viscosity) zorgt voor een merkbaar kortere reponstijd bij het remmen. Met name bij lage temperaturen wordt de veiligheid vergroot. FMVSS No. 116DOT 4/ SAE J 1704 / ISO 4925 Class 6 / VW-Norm 501 14
Need advice?
Or do you have other questions?
We are happy to help you
Brake Fluid DOT 4 LV
Bardahl DOT4 LV (low viscocity) is een speciale remvloeistof DOT4 met een extreem lage viscositeit bij koude temperaturen. Doordat deze DOT 4 LV een lage viscositeit heeft is dit een ideale remvloeistof voor alle moderne voertuigen met ABS en ESP.
De merkbare kortere reponstijd bij het remmen, met name bij lage temperaturen, vergroot de veiligheid.

Bardahl DOT4 LV is mengbaar met alle andere DOT4 en DOT 5.1 remvloeistoffen, maar de uitstekende lage temperatuur eigenschappen wordt daarmee teniet gedaan. Daarom wordt aanbevolen om de remvloeistof compleet te vernieuwen zodat van alle voordelen geprofiteerd kan worden.
Category:

Car

, Motor

, Motorhome

Contents:

1 L

, 5 L

, 60 L

Filter:

brake fluid