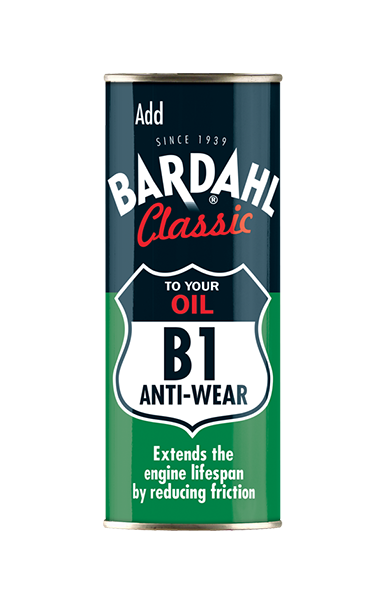 Classic B1 Anti-wear
Product number: :

2230B
Classic B1 Anti-wear: In alle motoren, zowel benzine- als dieselmotoren is slijtage veelal oorzaak van machinestoring en de hoofdzaak van slijtage is wrijving.
Need advice?
Or do you have other questions?
We are happy to help you
Classic B1 Anti-wear
Bardahl Classic B1
verbetert de smering voor een optimale bescherming. Voorkomt de beschadiging van de olie.
Verlengt de levensduur van de motor. Vergemakkelijkt de koude en warme start.
Toevoeging van Bardahl aan de motorolie verhoogt de smeereigenschappen van de olie. De exclusieve "polair
organische" formule van Bardahl zorgt voor een ondoordringbare smeerfilm(zonder vaste deeltjes) , dat zich aan het
metaal hecht, niet terugzakt in het carter en niet weg geperst wordt door hoge drukken of weggebrand wordt door
hoge temperaturen of gassen. Hierdoor wordt de slijtage van vitale motoronderdelen verminderd.
Het resultaat blijkt uit verbeterde verbranding en hogere prestaties.
Resultaat: vermindering van de motorslijtage van 10% tot 40%. Maar zij waren niet de enigen, die dit constateerden. In juni
1978 onderwierp EG & G Automotive Research, Inc. Bardahl aan een serie zgn. Sequence IIID tests om de antislijtage en olieoxidatie
voordelen van dit produkt te meten, wanneer toegevoegd aan een kwaliteitsmotorolie. Resultaat: slijtagevermindering van 61,5%
en 12% minder olieoxidatie. Het Petroleum Instituut (API) kwam met resultaten van slijtagevermindering van 47% en
startslijtage vermindering van 77%.
| | |
| --- | --- |
| Category: | Classic |
| Contents: | 400 ML |
| Filter: | oil additives |